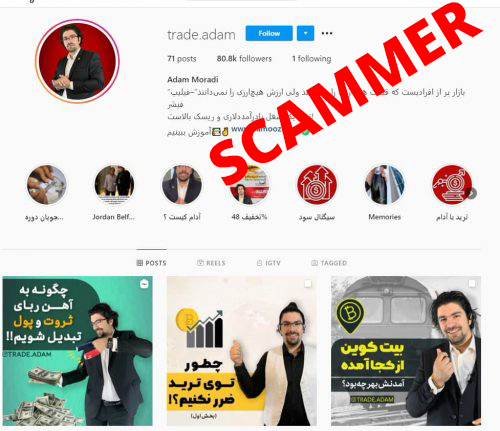 Among a massive flood of cryptocurrency scams and the lack of effective surveillance by regulators, fraudsters with high Internet power are building new identities and doing scams. In this particular case, we evaluate the identity of an old scammer.
Who is Adam Moradi?
Adam Moradi considers himself the first Iranian who could register his coin legally. He introduces himself as a doctor and spends a lot of money on online advertising. The video below shows that the artist and the influencer, 'Bahareh Rahnama,' promote this scammer. But who is Dr. Adam Moradi?
In his conversations on his Instagram page, Adam had mentioned several times that he worked as a construction worker and succeeded and intended to unveil his coin. However, according to him, he was homeless for a while and claimed that he had a Ph.D. degree and introduced himself as a doctor.
Evaluation of the Ph.D. degree of Adam Moradi
Adam Moradi stated in a telegram message that he has a Ph.D. degree from UPM Malaysia. However, according to the picture below, if we quote Adam Moradi himself, this scammer has been bankrupt for the past five years and has even been homeless for a few days.
Therefore, according to Dr. Adam Moradi's resume, he should have been receiving his Ph.D. in Malaysia for the past five years; based on that, we conclude that this person has never been a worker or is not a doctor!
But let's go into more detail!
With the real name, Khashayar Moradverdi, Dr. Adam Moradian was building a refugee case for the people in Turkey in a seemingly immigrant institution. Under international law, any advice to make a refugee case, whether for money or free of charge, is a crime, and these people are known in law as human traffickers.
After the United Nations (UN) left Turkey, he lost his prosperity, and this person became a trading expert over a night!
With the real name, Khashayar, Adam Moradi is a smuggler who abuses the situation in the country and encourages people to migrate through refuge cases.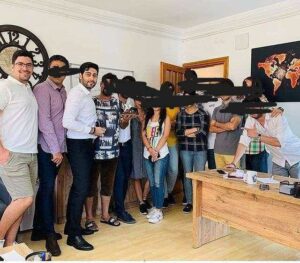 The Instagram page of this smuggling network, which operates in the form of an immigration organization, is active under the name of Immigrants TV.
https://www.instagram.com/mohajeran_tv   Archive
The website of this fraudulent organization is active with the address of panahjooyan[.]com and is now unavailable; check the archived version of this website here. Archive2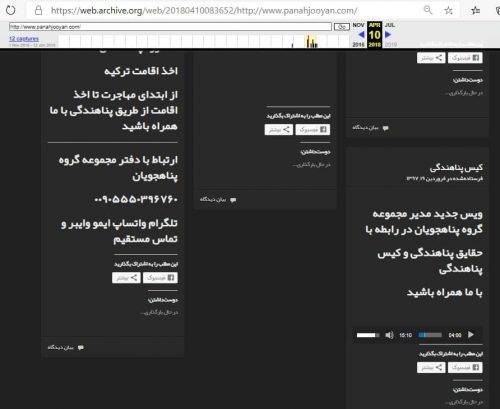 Listen to one of the voices of Dr. Adam Moradi or Khashayar, the smuggler that he posted on the refuge seekers' website. In this audio file, Adam Moradi has addressed the problem of Iranians in their country!
Who is Khashayar Moradverdi's partner in crime?
Khashayar Moradverdi's partner in crime(with @dradammoradi ID) is a person named Parsa Amiri with the actual name Ahmad Reza Amiri.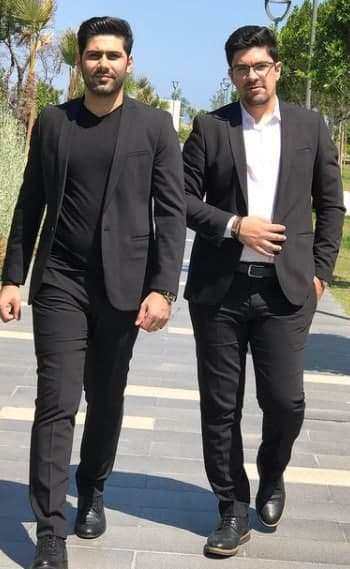 Update 1:
In the picture below, you can see that Adam Moradi, with the actual name of Khashayar, the smuggler, reported his post on Instagram, which was, for a time he was a construction worker.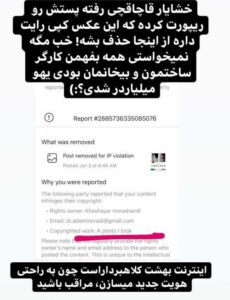 Update 2:
After evaluation by Webamooz, Dr. fake Khashayar Moradverdi's electronic sign, known as E-NAMAD, was suspended.