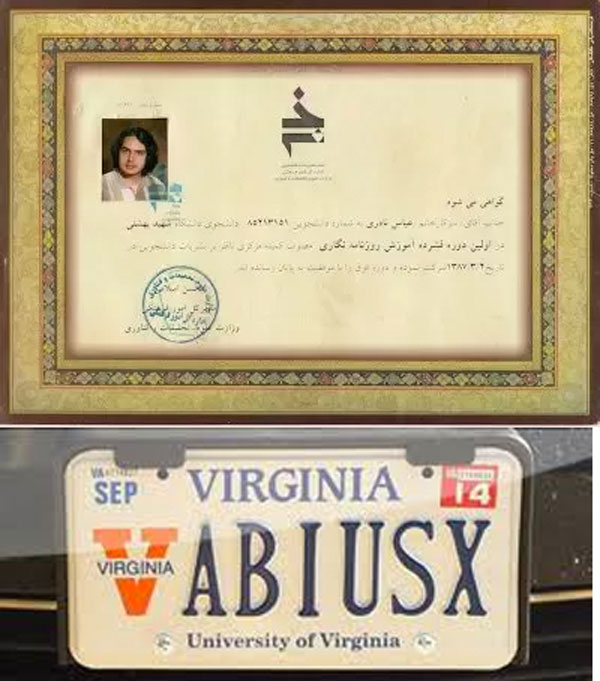 We're talking about someone who's collecting the identities of Iranian hackers. This guy Abbas Naderi AKA Abolfazl Nderi , who's been injected into Iranian hackers group overnight is called Abbas Naderi and I've been watching him for a while which I'll explain in the following.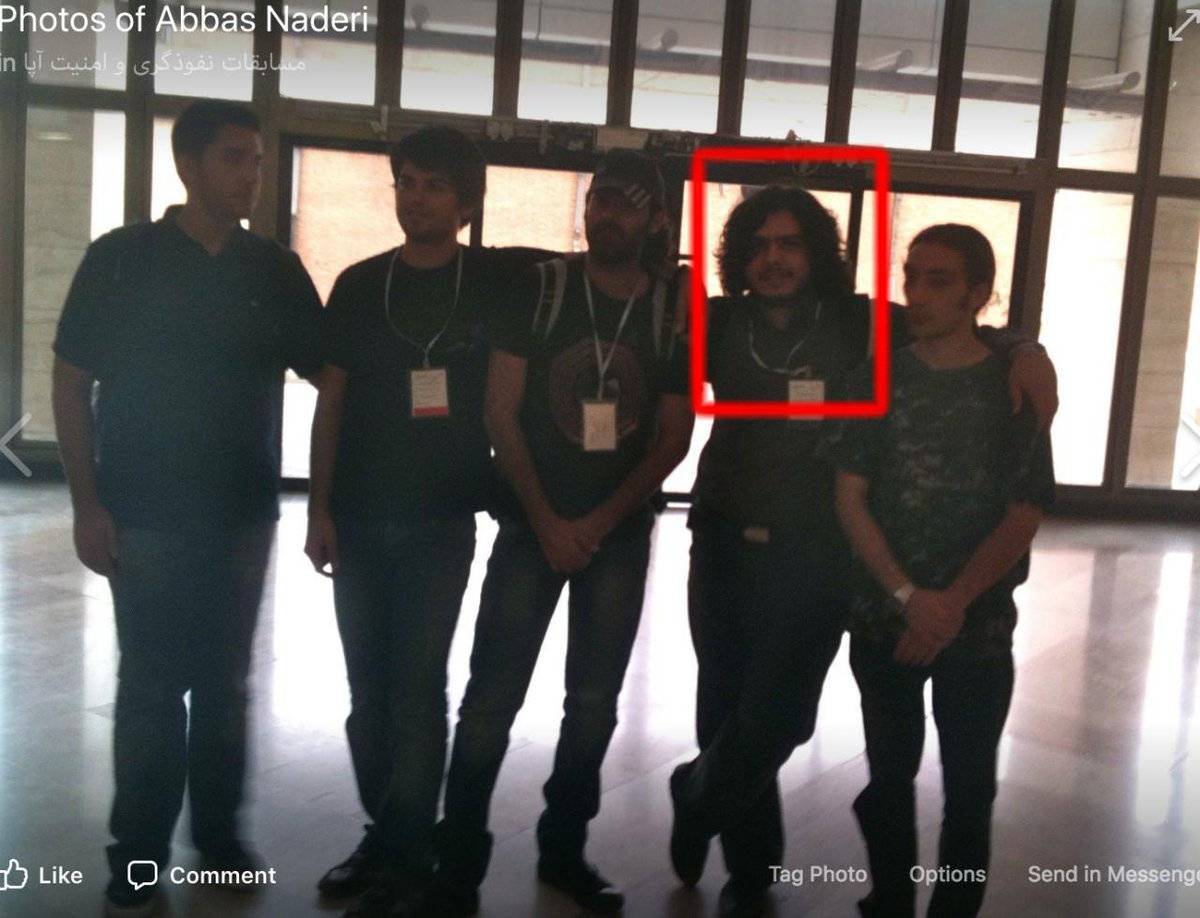 Abbas Naderi was a student at Shahid Beheshti University and infiltrated the community of hackers overnight and became one of them. Was he truly a member of Basij or did he simply use the title to achieve his goals? We analyze the question first and then we answer it.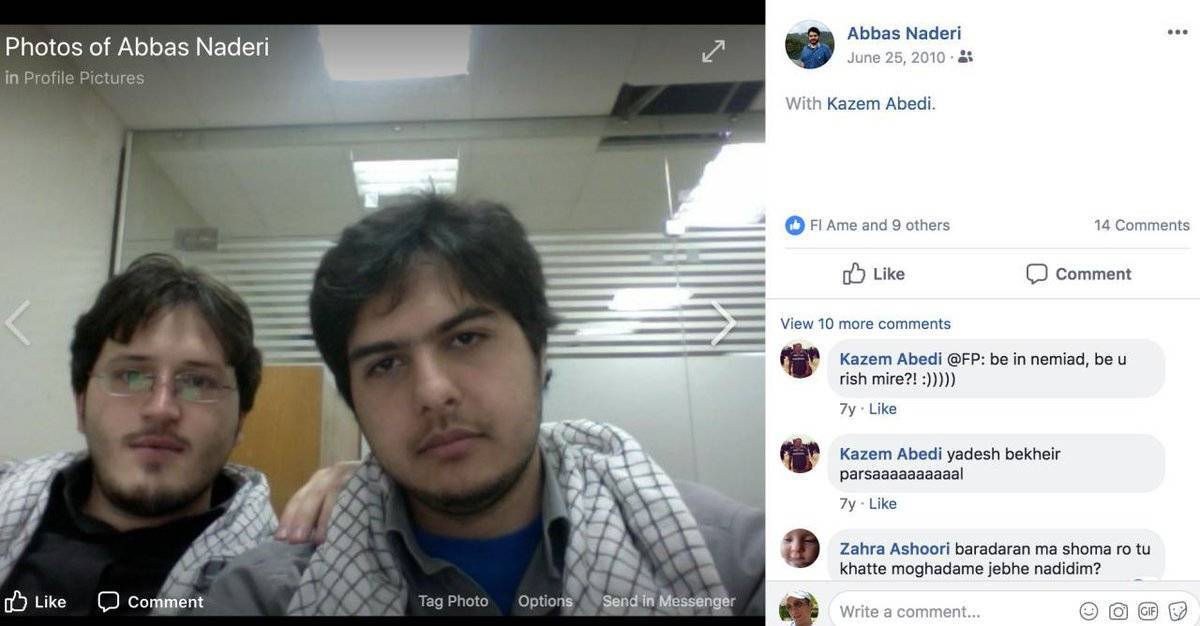 When Abbas Naderi was a member of Basij unit of Shahid Beheshti University, while talking to ladies he wouldn't even look at their faces which of course changed after arriving at United States just like his opinion about hijab. Abbas is a follower of Ahmadinejad (for a reason) and still keeps some articles about him.
biusx.com/archiv
In an interview with Tebyan Abbas Naderi insists that studying is his only goal in America and he's gonna return right after he finishes his educations at MIT!! Any ideas why would Tebyan perform news reportage for a student who hasn't even finished his educations yet?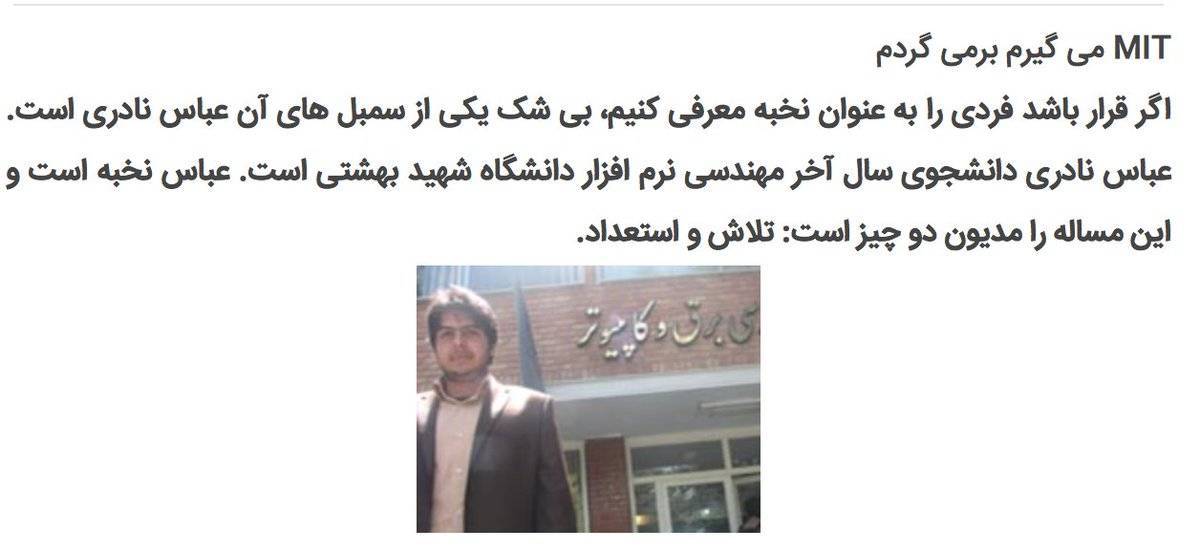 Translation:
I'll get the MIT and return
If we wanted to call anyone elite, there's no doubt that Abbas Naderi would be one of them. Abbas Naderi is a senior student of software engineering at Shahid Beheshti University. Abbas is elite because of two things: endeavor and talent.
During those years he started a company called etebaran.com with his friend Kazem Abedi and also announced arzeshi.ir at the same time!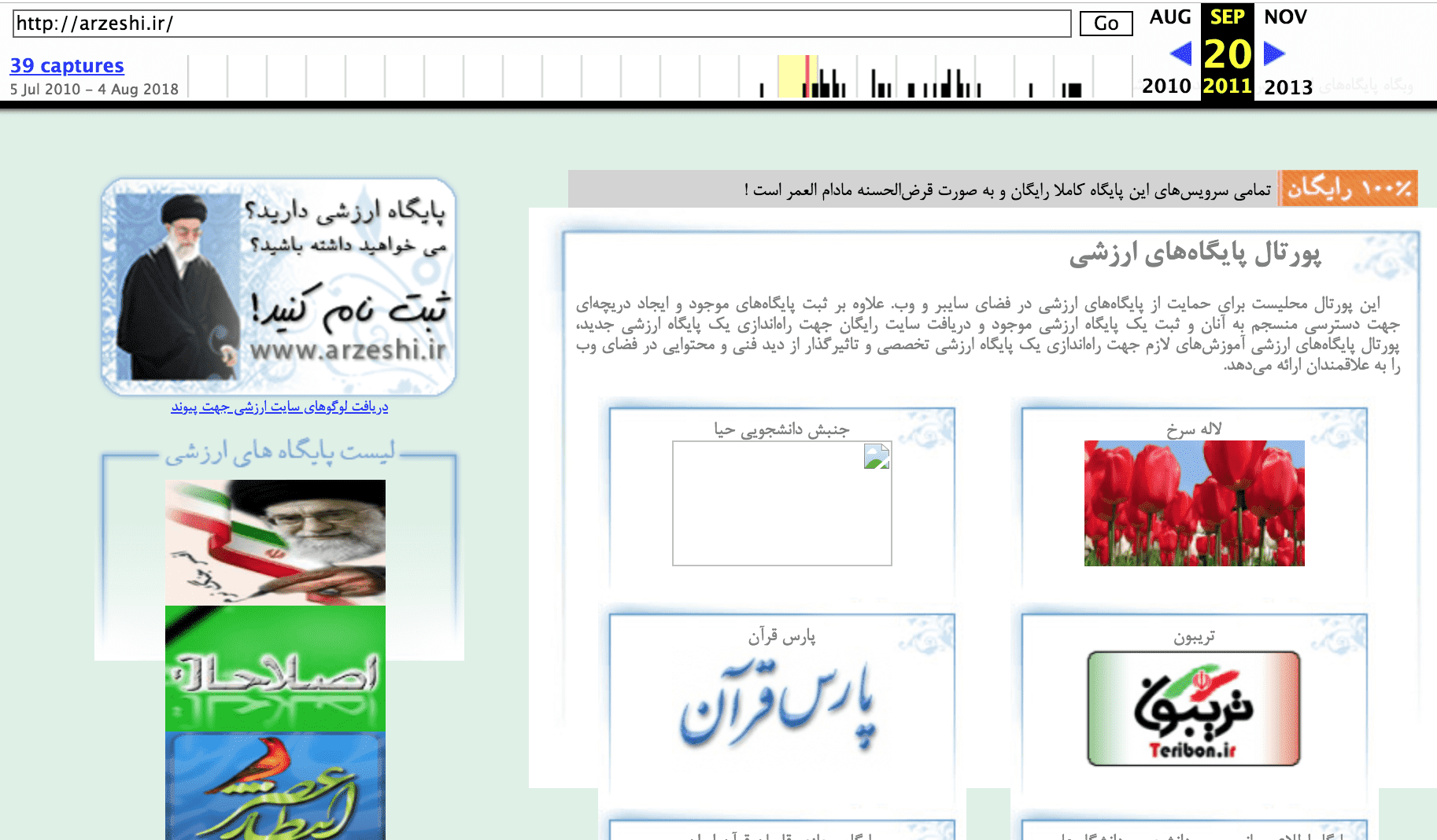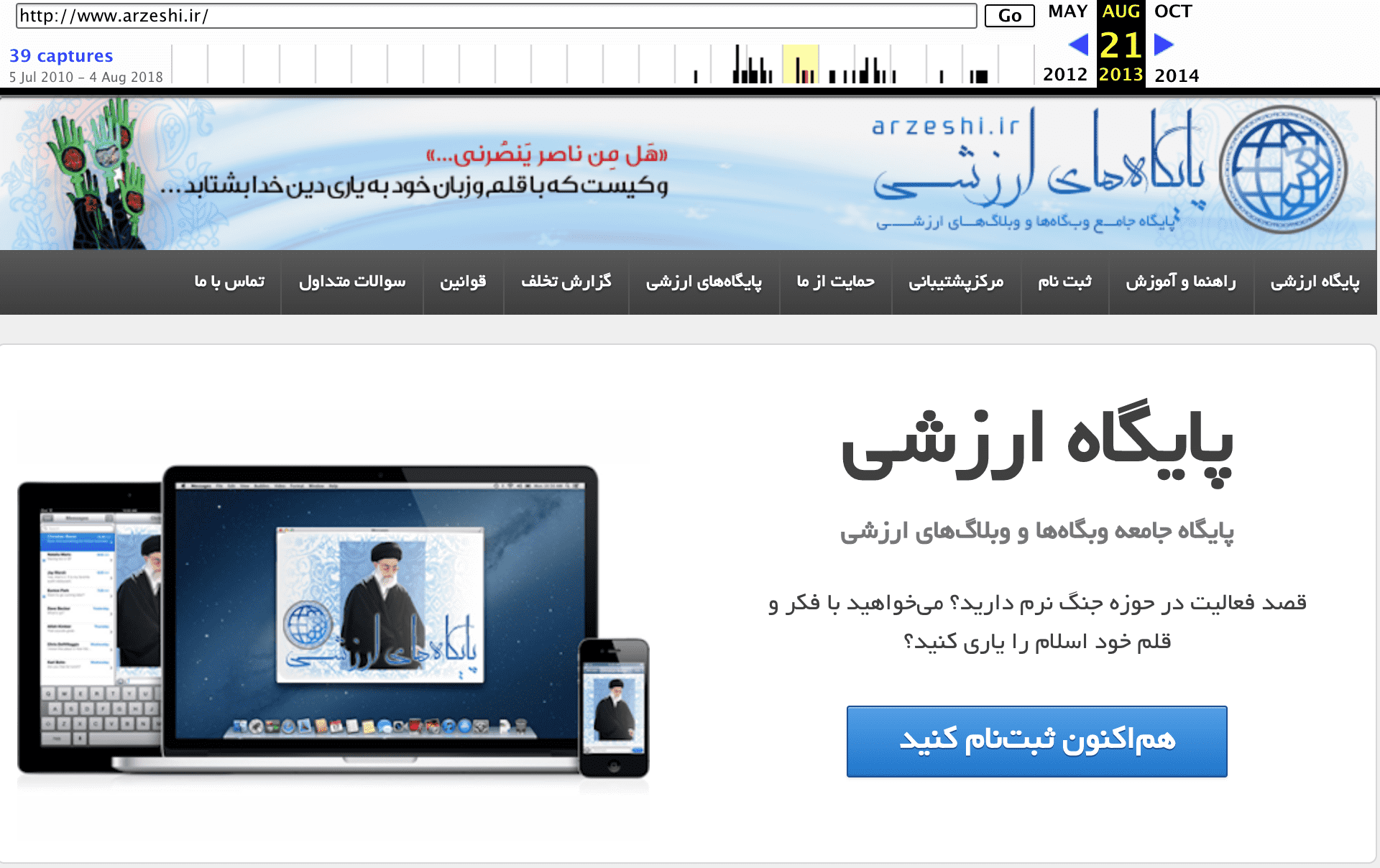 Translation:
Portal of devotee websites
This portal is a place to support devotees' websites in cyber space and web. In addition to registering available websites and creating a central place to access them all and registering an existing devotee website and receiving a free website to create a new devotee website, portal of devotee websites offers useful tutorials for setting up a technically and contextually professional and impressive website for enthusiasts.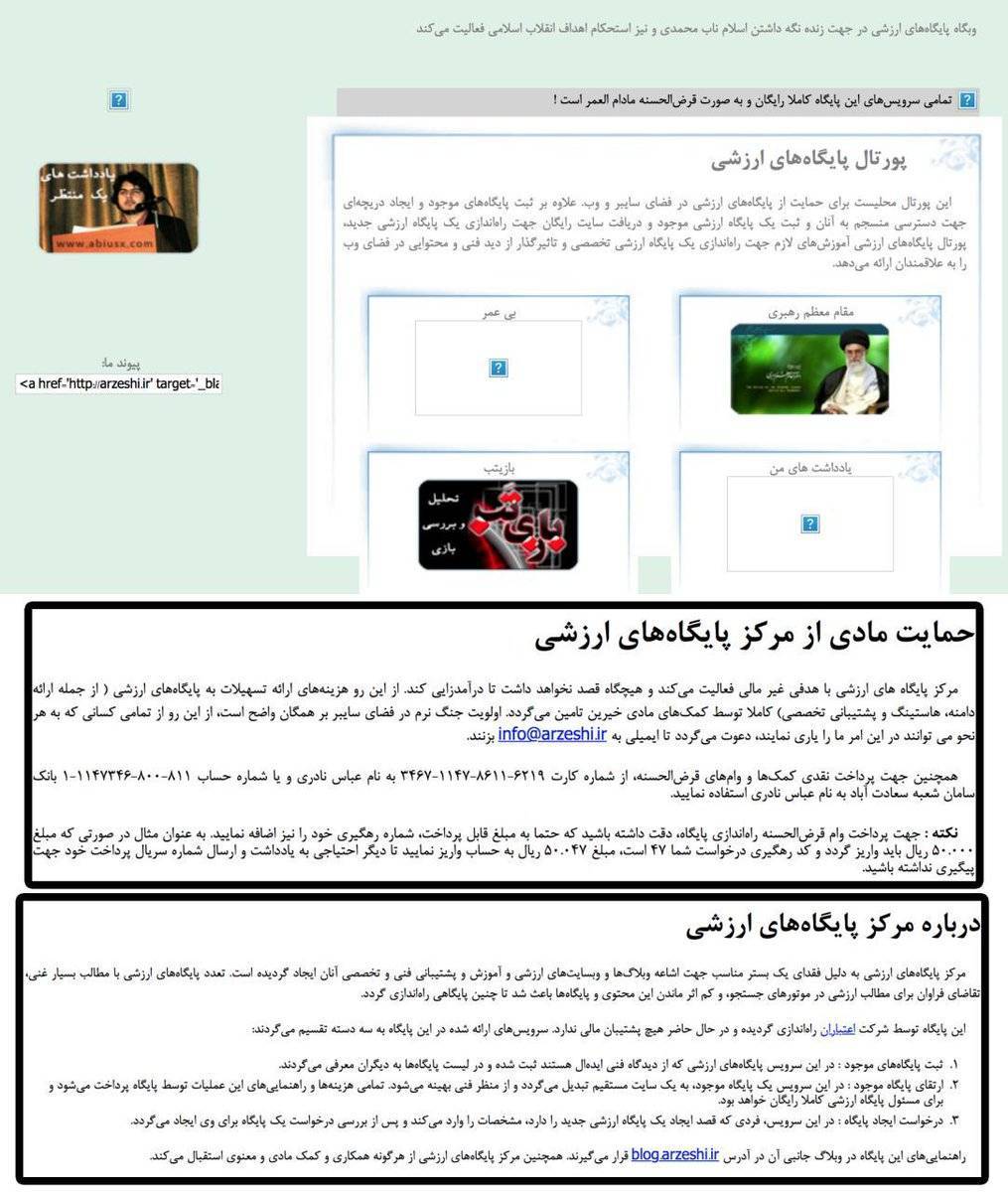 Translation:
Financially supporting the center of devotee websites
The center of devotee websites has a non-profit purpose and will never work for money. Therefore the required budget for offering service to devotee websites (including domain, hosting, and tech support) is entirely provided by donations. Everybody knows about the importance of soft power on the internet, hence we invite all of you who can help us in any way to send an email to [email protected]
Also for cash donations and mortgage loans use the card number 3467-1147-8611-6219 in Abbas Naderi's name or the account number 1-1147346-800-811 of Saman bank the Sa'adatabad branch also by the name of Abbas Naderi.
PS: in order to pay the mortgage loan for website creation, make sure to add your tracking number to the payment amount. For instance if 50000 rials should be transferred and your tracking number is 47, transfer 50047 rials to the account so there would be no need to note and send your payment's serial number for tracking.
About the center of devotee websites
The center of devotee websites has been created as a solution to the lack of an efficient place for distributing devotee websites and weblogs and their technical and professional education and support. Multiplicity of devotee websites with high quality content, frequent demand for devotee contents in search engines, and yet their insignificant appearance led us to creating such website.
This website is created by Etebaran Company and has no sponsor at the moment. Three services are offered in this website:
1.Registering existing websites: in this service technically ideal devotee websites will be registered, listed and presented to audience.
2.Upgrading existing websites: in this service an existing website will become a direct website and technically upgraded. All payments and tutorials are provided by this website and are totally free for the owner of the devotee website.
3.Creating website request: in this service the person willing to create a new devotee website submits the details and will receive a website after checking and verification of his request.
This website's guidance is located at its sub blog at blog.arzeshi.ir. Also all material and spiritual supports are welcome by the center of the devotee websites.
So how did Abbas realize that he's a devotee and others are not? What made people like Abbas think that they have moral values and others are valueless? The reason is the amount of resources in the world, that amount is determined and when someone receives more it has to be taken from you and me.

Translation:
Marry in the way that makes your generation the army of Imam Zaman

Annotations of a wistful

Why Down with America?

With permission of the elders I changed my blogging style, such that I write the important contents as articles first and then transfer them here putting a link to their files. This one I'm writing now is one of my main articles and has been in the drafts since 2010 January 10… thanks God for aiding me finishing it.

In this article the properties of American way of life and its influence on humanity has been described with its vital fundamentals. Then the Islamic revolution and its influences has been introduced along with Islamic beliefs and teachings for the best way of life and analyzed comparative to the American method. At the end it's been explained why it totally makes sense to say down with America.

Introduction:

There's absolutely no doubt that America rules the modern world (the last fifty years) almost entirely in military aspect and as a result cultural aspect. Many nations and governments have surrendered to this American dominance and its life style The American Way…

I think for hours and sometimes for weeks, I read, discuss and pray to God's messengers, so that they polish part of my little faith to write something in this blog.

This is all because of our supreme leader's decree for distributing insight and with the hope that they'll be read by our lord Imam Zaman.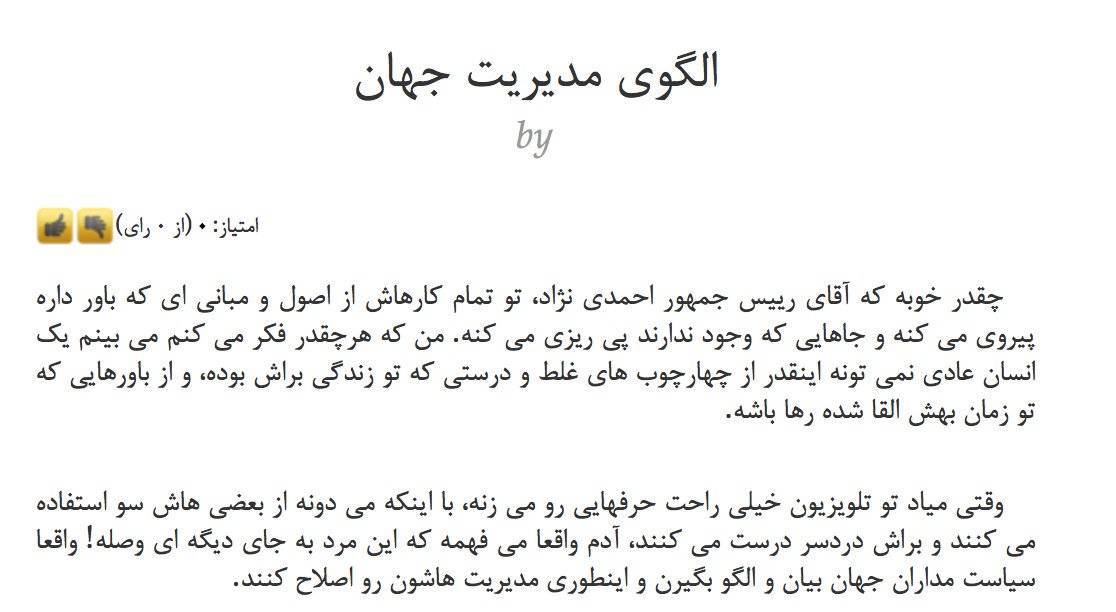 Translation:
World Management Scheme
It's wonderful how mister president Ahmadinejad follows his theories and beliefs in everything he does and when there's no theory in a field he creates the basis of one. The more I think about it the more I realize a normal person can't liberate himself like that from the right and wrong path he had through the long time of his life.
When he's on TV, he easily says things, although he knows some of them will be used against him and put him in trouble, that's when you realize that this man is connected to a higher power! All politicians should follow him and reform their managements.
Abbas Naderi kept appearing in the circles butchering and destroying America and was extremely political, and more importantly still waiting! What was he waiting for?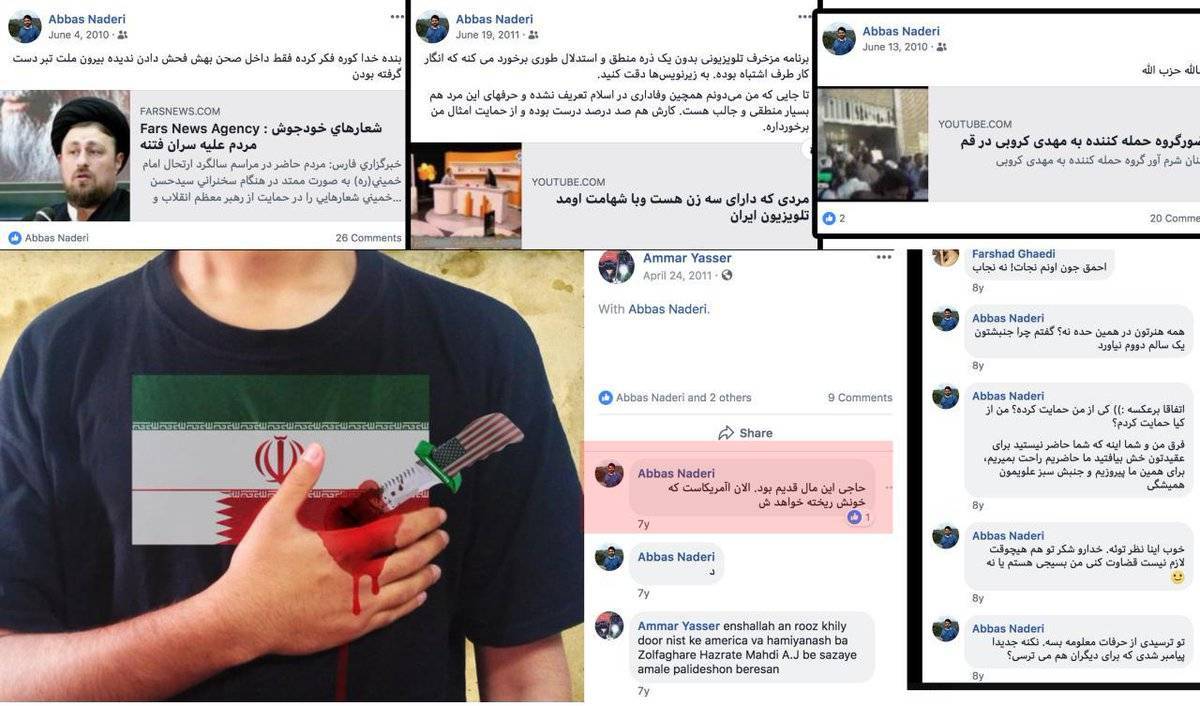 Finally the time came and Abbas' waiting was over using Ahmadinejad's scholarship not once, but twice, he and his wife migrated, where? America! That's right the place he always hated! And must be destroyed!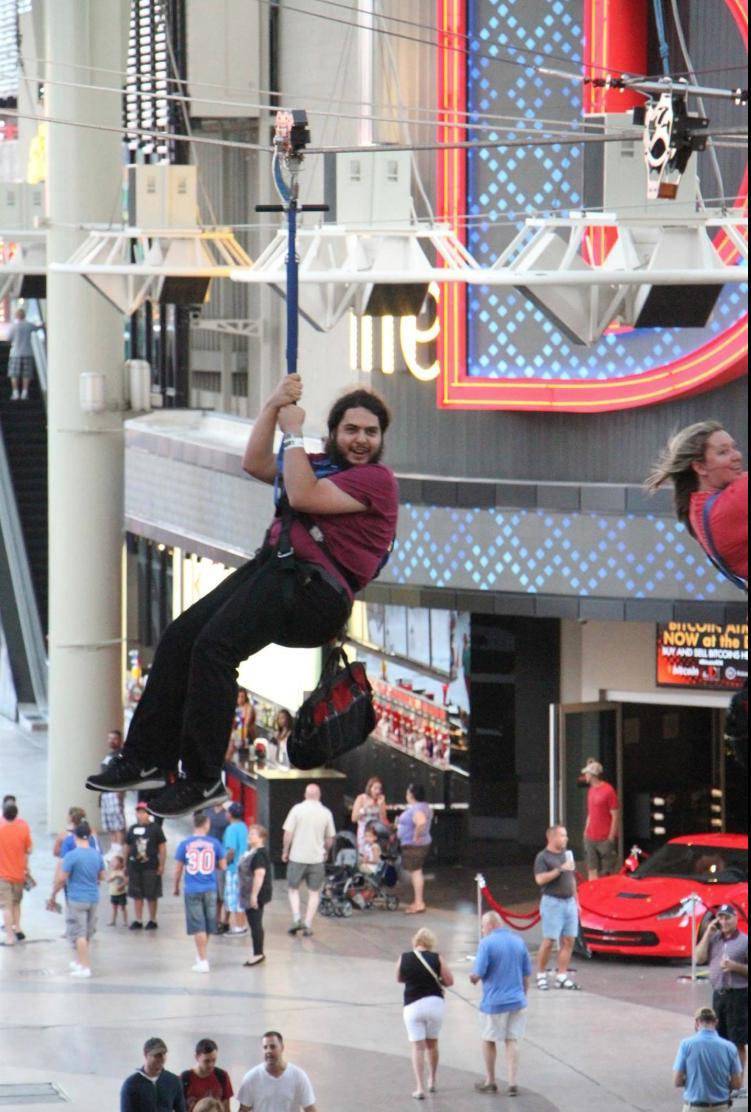 Apart from his activities in his Etebaran Company in Iran he also sells VPN in irboost.us website with direct payment gateway. Although you should be careful not to do that because that's illegal for people like us and considered a crime for you and me.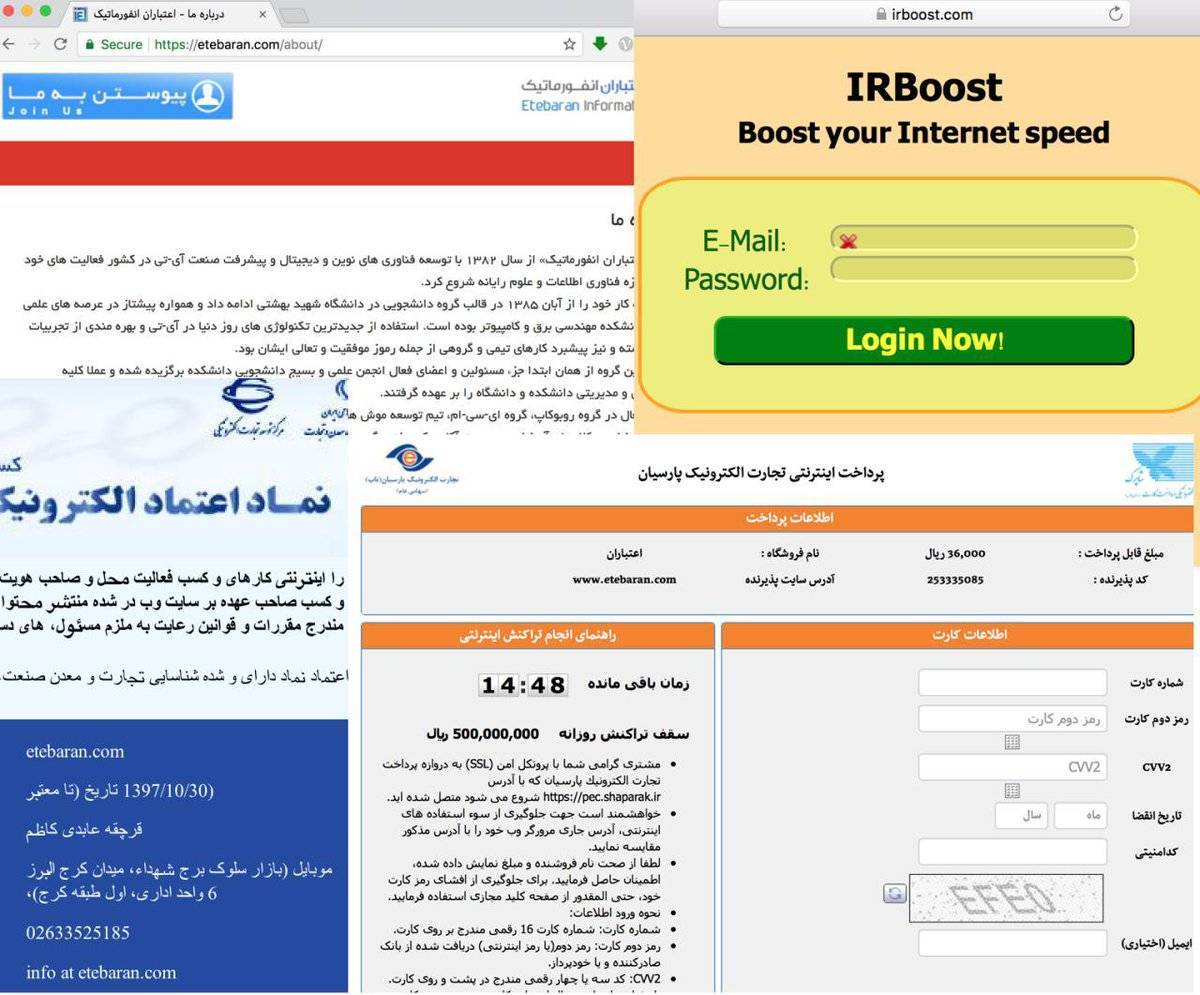 The key difference between some people's lives with ours is their good genes, Abbas Naderi's dear father Abdurreza Naderi was also the directing manager of printing organization of Islamic guidance ministry at the time. (What he is now I don't know) it may be easier now to understand the reason of that news reportage and those supports and the scholarship.

Of course Abbas Naderi has no plan for returning to Iran although daddy has prepared a good place for his return after years of peaceful education he doesn't have that in mind at all!! Abbas Naderi has reactivated one of his failed projects called zdresearch.com and he's spending a good amount of money!
That's enough for now; I hate anyone trying to collect hackers' names and such and consider them bunch of fixers. This guy has done the same thing and continues; of course this list is only for giving some credit to his website and his real activities is beyond this site zdresearch.com/team/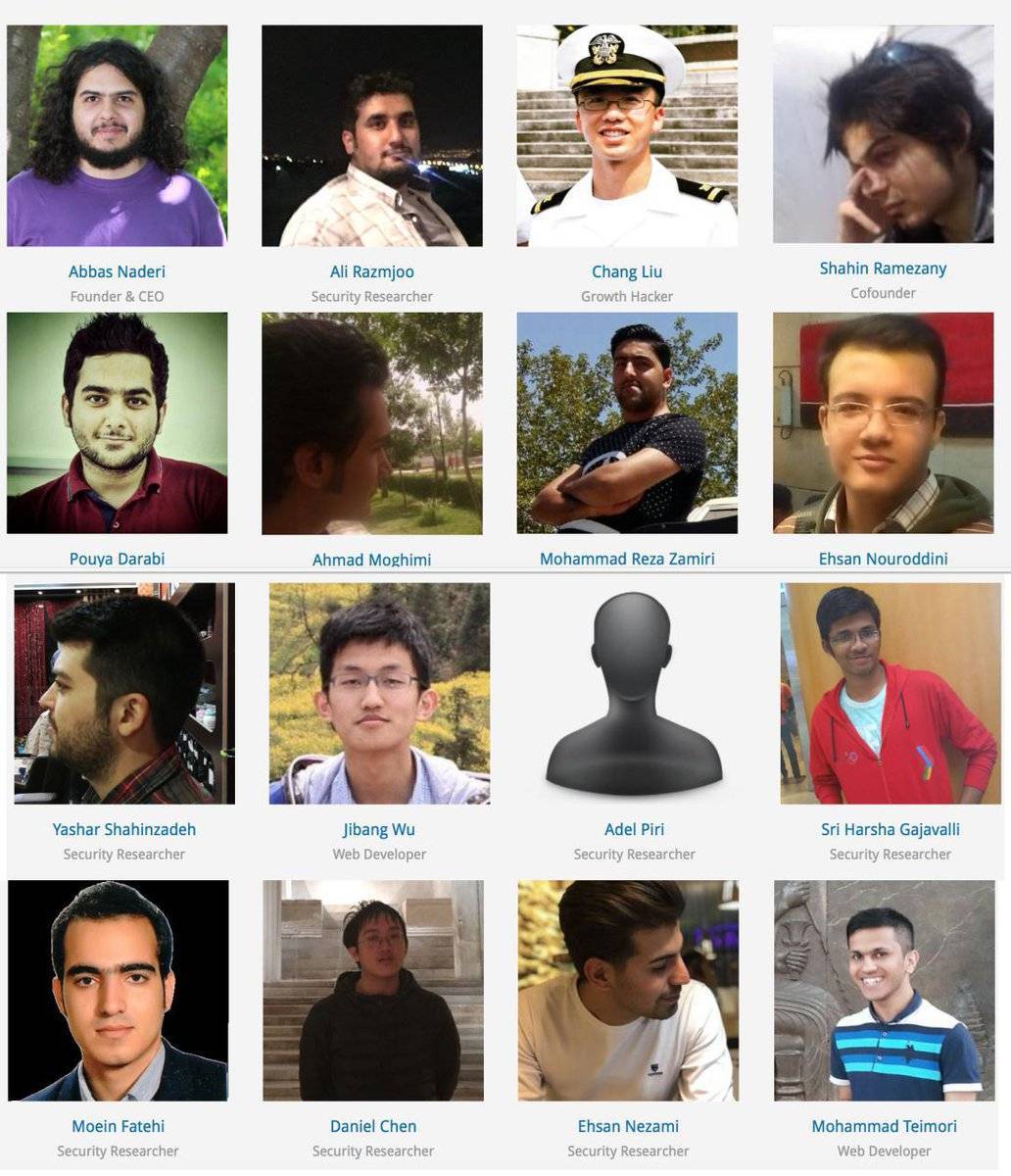 An important question would be that if this guy is getting a PHD and is in contact with teams who are native English speakers why would he look for Iranian hackers to make videos for his website and then he translates them? Isn't that a little weird?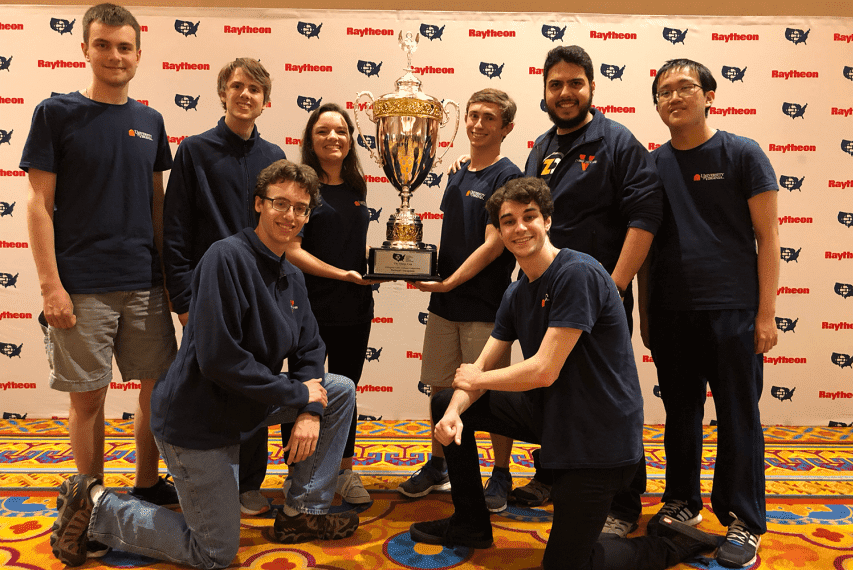 May be finding hackers is the job sweat Abbas has!
Of course I'm not questioning United States government for admitting these people, my question is about the current situation of our country in which some good genes (the son of the Islamic guidance deputy at the time in this case) can use all the resources so easily and have a perfect life while we have to fight for our simplest basic rights.