Check the video about this article here:
https://www.youtube.com/watch?v=E5XY_Gu-2qk
After a few months of investigation about money laundering in Iranian gambling websites I found an interesting one, Farhad Exchange website has been presenting and selling some codes called Fouchers similar to perfect money codes for a while. Intermediary codes work like actual currencies and usually a well-known bank or currency exchanger bankrolls them. But what's interesting about the invented Fouchers code is that it's only valuable in Farhad exchange and the 1xbet gambling website!!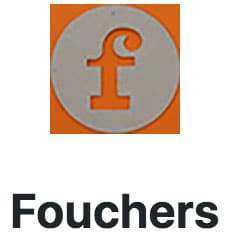 Now the question would be that what was the first time for 1xbet to announce and use these codes? By searching their Persian guide channel we find this post which was published 17 months ago: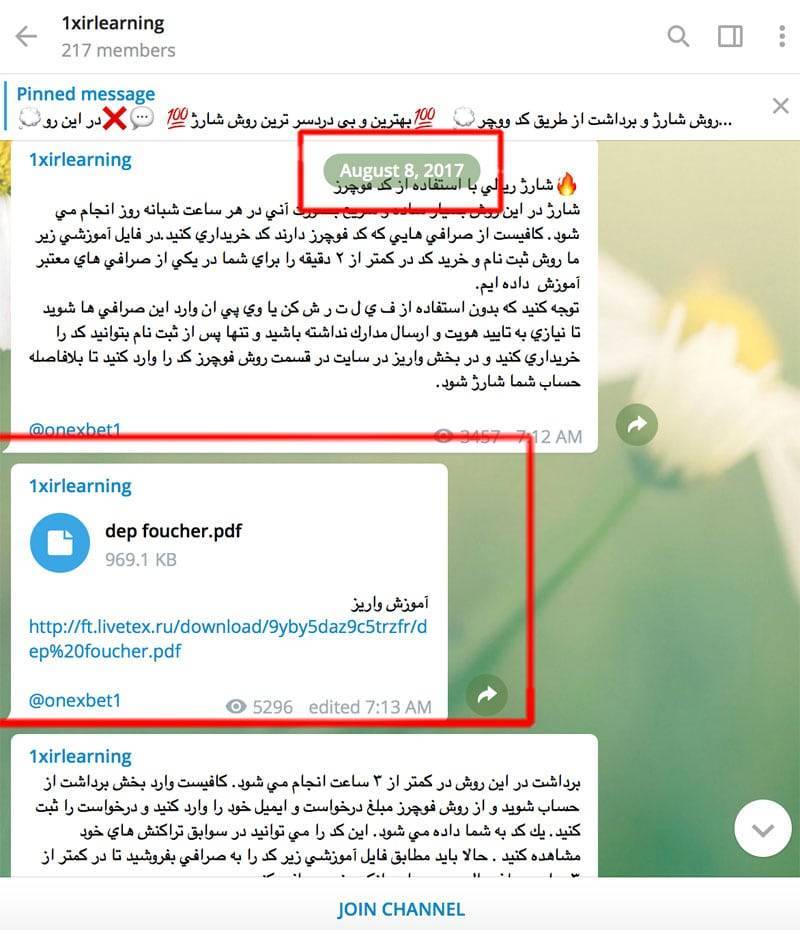 You can download the file here dep foucher, https://t.me/onexbet1/119 which clearly describes the Fouchers code as a way for money transactions in Farhad Exchange.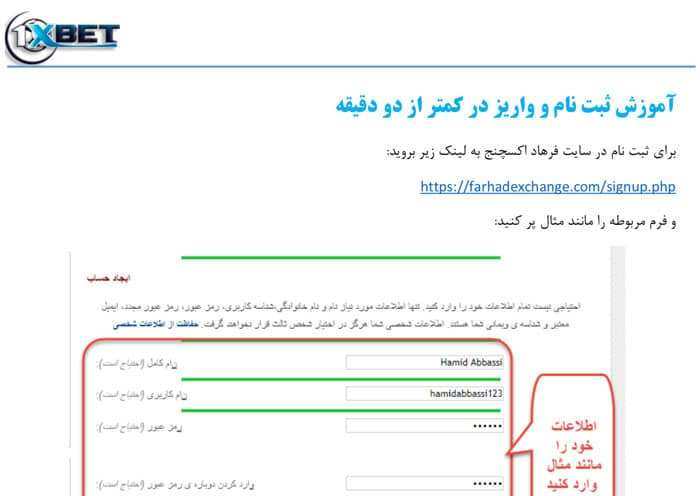 Translation: You don't need to enter all your information. Only your fist and last name, along with user ID, password, password repetition, valid email and Webmoney ID are needed. Your information will never be accessible by any third party. Personal information privacy
And it gets even more interesting when we know that the Russian gambling website has announced its Persian section!!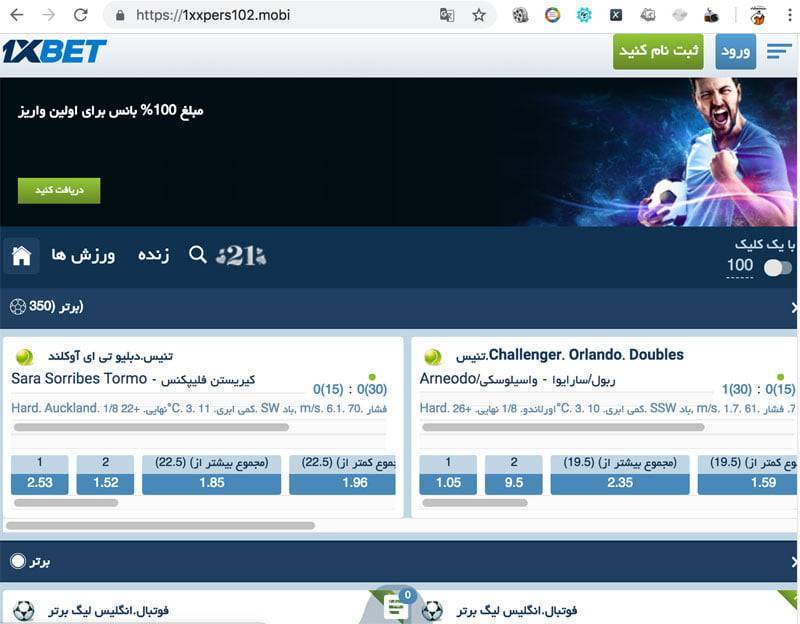 Searching the web, you'll realize that no other website is using this code, however after we published this fact in webamooz Farhad Exchanged tried to give a validation to this code by the following post:

Translation: The bankroll for P.S.Vouchers codes is Bitcoin which is provided by Premium Vouchers company. If you're going to exchange your P.S.Vouchers codes for Bitcoin or Perfect Money see the website for Premium Vouchers company. P.S.Vouchers codes are referred with the original name of P.S.Vouchers in this website.
In this post Farhad Moghadam Salimi introduces this website https://premiumvouchers.com (archive  http://archive.vn/N7nOz) as the funder of Fouchers code; let's check the validity of this site. Its domain was registered in 30-5-218 and was for sale before that date!
We take a look at Archive.org just to be sure: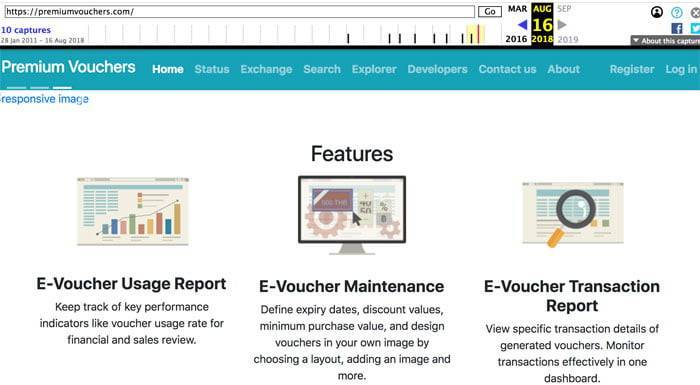 In August 16, 2018 (5 months ago) the website was just a prebuilt template!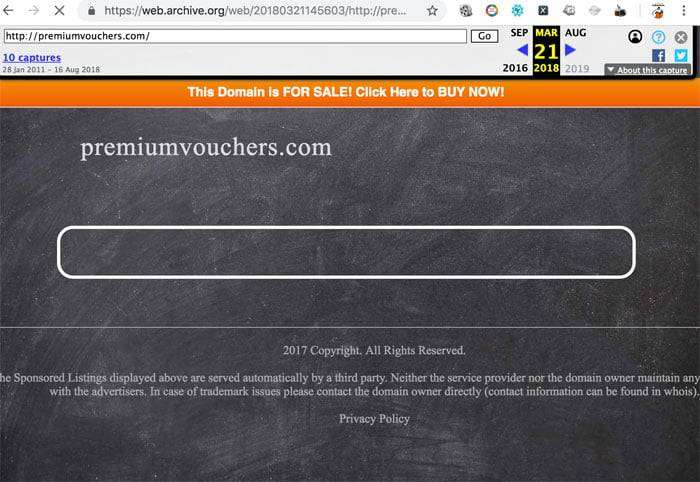 On March 21, 2018 this domain was put for sale!
And even more interesting is that if you check the website right now there's no option for exchanging Fouchers codes! And even Bitcoin is misspelled as Biccoin!!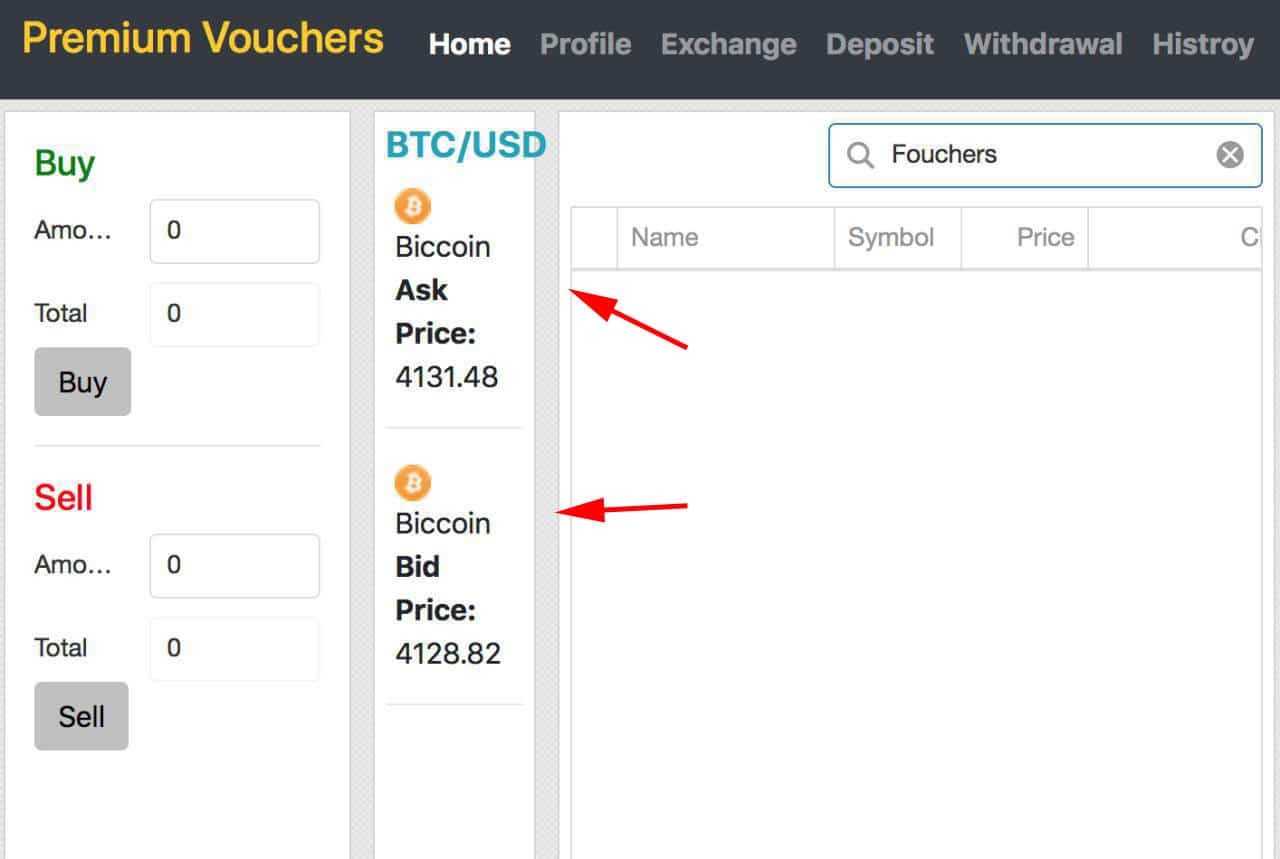 Misspelling in premiumvouchers.com
The next question would is there anywhere else to trade this code, by searching the internet and telegram we find fouchers.info and a little further investigations shows that the age of this domain is 1 year and 4 months! Or 16 months!!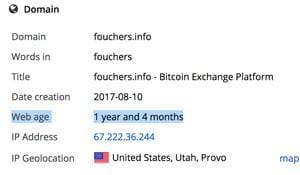 History
Date	Status	Name Server
2017-08-10	New	bluehost.com
This domain is also hosted on bluehost.com; of course its registration information has been marked as private but let's take a look at some similar domains like fouchers.net:
History
Date	Status	Name Server
2017-08-12	Transferred to	bluehost.com
2017-08-11	Transferred to	cloudflare.com
2017-06-15	New	dataargham.com
And the registration history leads us to this information:
Recorded : 2017-06-16
Historic Registrant
Name	Saeed	is associated with 100+ domains
Organization	Saeed	is associated with 100+ domains
Email	[email protected]	is associated with 4 domains
Address	Saeed
City	Tehran
Country	IR Iran (islamic Republic Of)
Phone	+21.444400930
Fax	+21.444400930
From this point onwards we're dealing with someone else called Saeed Ebadati with this email [email protected] . But who's this Saeed Ebadati who also owns farhadexchange.biz and farhadexchange.info domains?
According to the information of an official newspaper in Iran here: http://www.rrk.ir/News/ShowNews.aspx?Code=13753156 Farhad Moghadam Salimi and Saeed Ebadati are partners who opened a company called "Darik Rahbord Arvand" in the Arvand free trade zone,  which means those two lovers are not gonna pay a single penny for tax in the next 25 years!!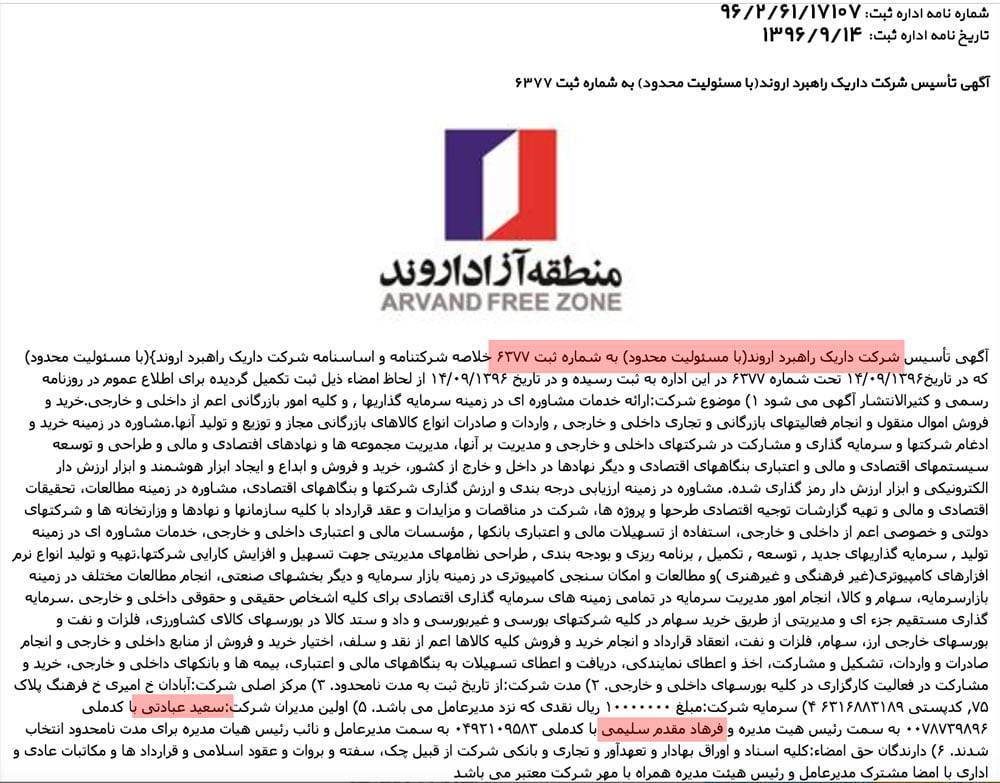 Announcement of "Daryek Rahbord Arvand" company (limited responsibility) establishment with registration number 6377 brief census and statute of the "Daryek Rahbord Arvand" company (limited responsibility) which's been registered on December 5, 2017 with 6377 registration number at this office and completed registration by signature, is published in official public newspaper 1) company's field of work: Consultation services about investments, national and international mercantile, trading movable property and mercantile and commercial activities inbound and abroad, import and export of legal merchandises and their production and distribution, consulting for purchase and merge companies and investing and participating in national and foreign companies and their management, management of economic and financial complexes and designing and developing economic and financial and credit systems and economic corporations and other inbound and abroad organizations, buying and selling and innovation and creation of smart tools and electronic currency and crypto currency. consulting for evaluating grading and pricing companies and economic corporations, consulting about the study and research of economy and finance and preparing reports for projects and plans' economic justification, taking part in tender offers and auctions and signing contracts with all organizations and institutions and ministries and governmental and private companies inbound and abroad, using financial and credit facilities of national and foreign banks, financial and credit institutions, consultation services about production, new investments, development, supplementation, schematization and budgeting, designing managerial systems for simplification and increase the efficiency of companies. preparation and production of computer software (non-cultural and non-artistic) and cyber study and facility evaluation of the investment market and other industrial fields, attempting different types of study for capital market, stocks and merchandises, fund management of all kinds of economic investments for all real and legal persons inside or outside the country, managerial and partial direct investment via stocking in all stock and non-stock companies and trading goods in agronomical, metal and petroleum merchandising stocks and foreign currency bourse, stocks, metal and oil, signing contract and trading all kinds of products including pecuniary and starter, authorized to trade with national and foreign sources and import and export, initiate and participate, obtain and grant representation, receive and offer facilities with financial and credit corporations, insurances and national and foreign banks, purchase and participate in brokerage activities in all inbound and abroad stock markets. 2) company duration: since registration till unlimited due. 3) company's main office: Abadan – Amiri str – Farhang str – N 75 postal code: 6316883189 4) company's budget: 10000000 rials in cash which is trusted to managing director 5) initial directors: Saeed Ebadati with national security number 0078739896 as the chairman of the board and Farhad Moqadam Salimi with national security number 0492109583 as the managing director were chosen for unlimited duration. 6) Signed right holders: all worthy and obligatory financial and bank notes and documents including czech and promissory notes and islamic agreements and contracts and usual and official correspondence are valid with joint signature of the chairman and the manager with the stamp of the company.
Saeed Ebadati and Farhad Moghadam Salimi                   Saeed Ebadati                                         Saeed Ebadati
Here's a comment made by someone else who also found about this fraudulence:
کل سایتهای ایرانی قمار (که فکر کنم تعدادشان بیشتر از ۵۰تاست) در مقابل سایت خارجیِ 1xbet مطمعنم که تراکنشی در حدود ۱۰درصد دارند .
این سایت روسی قبلاً درگاه اینترنتی داشت اما بعداز کمتر از ۲سال درگاهش بدلیل حجم وحشتناک بالا بسته شد و ادمین های ایرانیش به فکر ارز مبادله ای همسان افتادند . ارز فوچرز ر که هیچ ربطی به آن فوچرز خارجی مرتبط با پی پال نداره را با کمک صرافی فرهاداکسچنج بوجود اوردند ، ملت برای شارژ حساب سایت قمارشون ، از فرهاداکسچنج کدفوچرز می‌گیرند و با وارد کردن اون کد در سایت قمار ۱ایکس به اندازه همان مقدار حسابشون شارژ میشه و بعد فرهاداکسچنج معادل همون مقدار دلار به حساب سایت روسی میزنه .
این کد و این فوچرز هیچ کاربردی جز برای این دو سایت نداره . مطمعنم نمیشه برآورد کرد چقدر ارز از مملکت از طریق همین سایت از ایران خارج میشه .
اگر سرچ بزنید گمانم سال ۱۳۸۹ علی انصاریان دریک مصاحبه با برنامه ۹۰ تخمین میزد روزانه ۶۰۰ میلیون دلار از کشور ازطریق همین سایتهای قمار خارج میشه .
I'm sure that all Iranian gambling websites (which are more than 50 I think) have 10 percent comparing to 1xbet, this russian website used to have online gateway but after less than 2 years its gateway was shut due to its dreadful high amounts and its Iranian admins started to think about an equivalent exchanging currency. Fouchers currency which has nothing to do with the foreign fouchers related to PayPal was created by the help of Farhad Exchange, people buy fouchers code from Farhad Exchange in order to charge their gambling website account and their accounts will be charged with the same amount by entering that code in 1xbet and then Farhad Exchange transfers the same amount of dollars to the russian website's account
This code, fouchers has no other use than these two websites, I'm sure the amount of money sent out by this website can't be determined
If you search for this I think in 1389 sh in an interview with 90 TV show Ali Ansarian estimated that about 600 million dollars are carried out of the country through those gambling websites
And finally, it's pretty obvious that they're not the only people doing billion dollars money laundries out there and supervisory organizations must be responsible about those powerful cartel s and their relationship with official authorities, and the exact amount of money they've stolen from people.