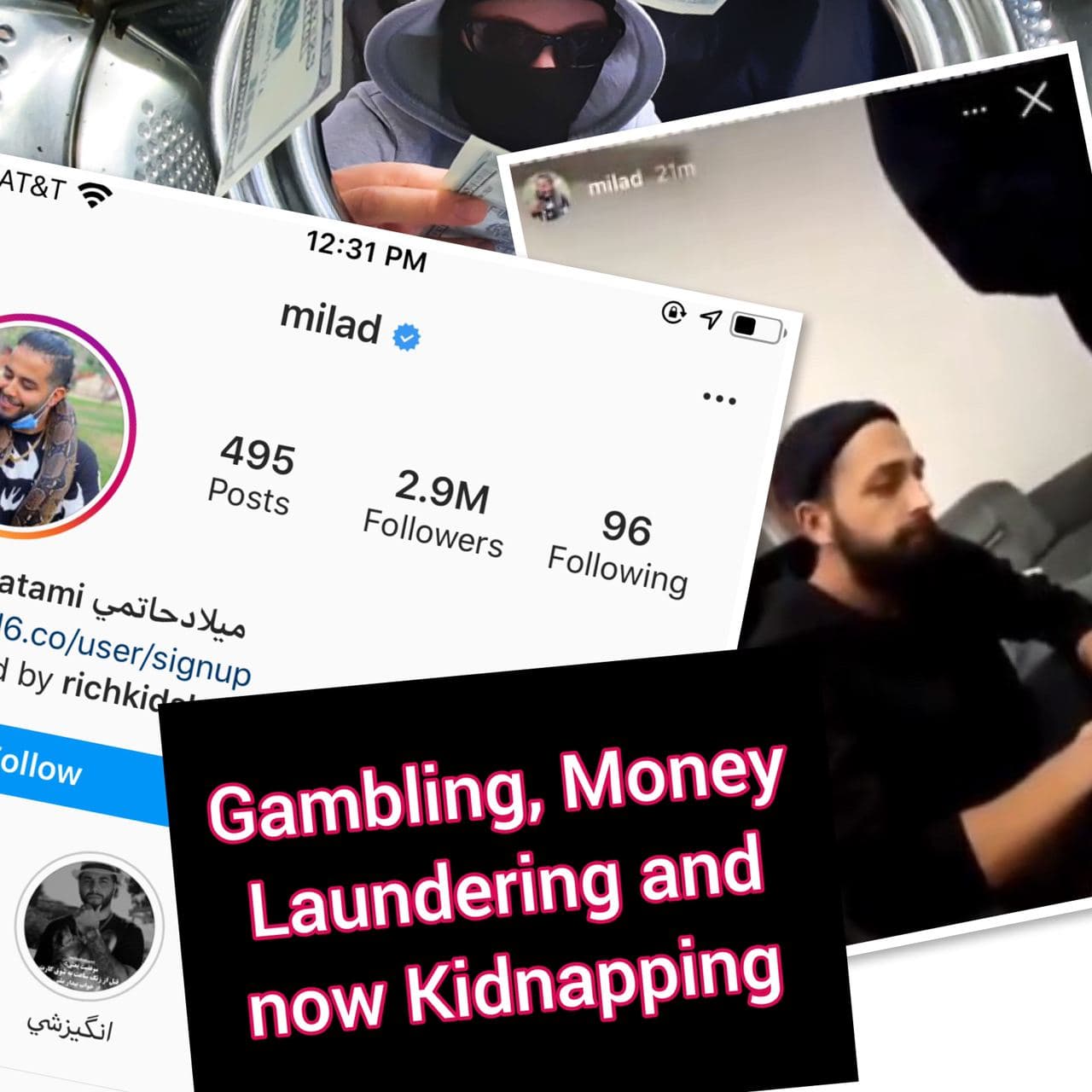 The issue of money laundering, which intensified under the pressure of sanctions against the Islamic Republic of Iran,
is not new. Still, in addition to the current situation in this country, illegal businesses have been formed in other mainly neighboring countries. Which are becoming more widespread due to Iran's lack of connection with the judiciary of other countries or the insignificance of its pursuit by the Islamic Republic Of Iran. One of these businesses is gambling and online betting sites.
Iranians operate these sites from countries around Iran, such as Turkey, Armenia, and even the United Kingdom and the United States. There is no government oversight of the performance of these sites. And by abusing Iran's banking network, they are transferring millions of dollars abroad. Due to the construction of an illegal financial network, they have become a suitable platform for money laundering and other crimes. Due to the illegality of the gambling business in Iran, these groups are forced to pay a bribe to judges, police, and bank officers to prevent this money transfer.
Even though cheating on these sites is common, these sites do not have any age restrictions, and you can see that young people can gamble on these sites without even verifying their identity.
This network is extensive and uses the Telegram and Instagram platforms (two popular platforms for Iranians) for advertising. From Instagram winners to singers, everyone is involved in the advertising of these sites.
However, according to specific rules of Facebook (the parent company of Instagram), advertising gambling with real money is prohibited without this company's permission. source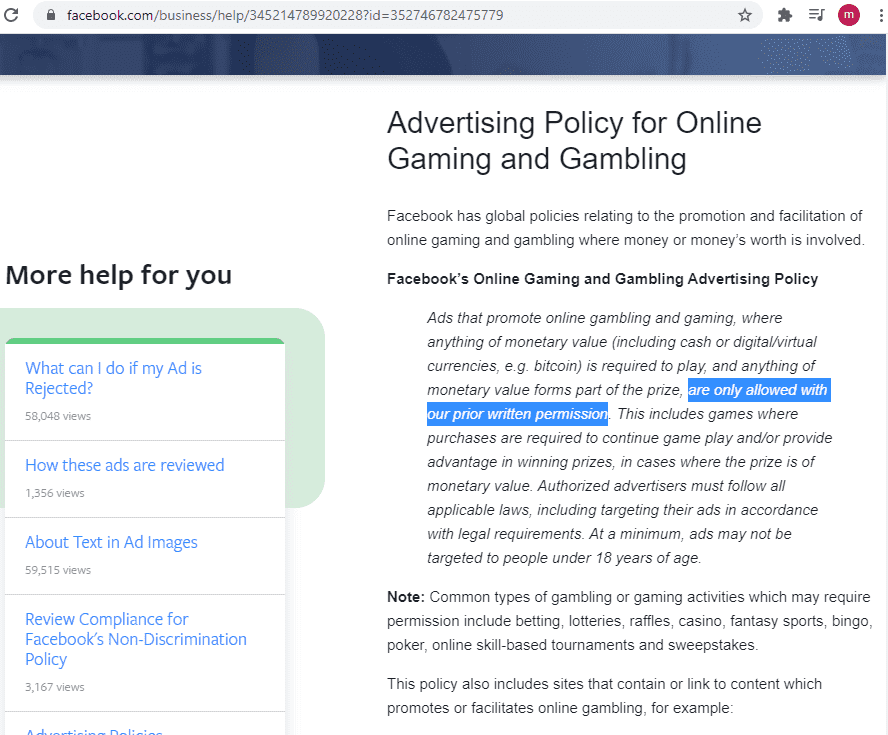 One of the people who is the propagandist of the gambling site identity as Milad Hatami (Milad Hatamabadi Farahani). He uses all immoral methods for advertising; for example, in his telegram channel, he asked the girls (the reason for working in Telegram is due to the possibility of reporting on Instagram) to send him a naked video. Underage girls are clearly seen in these videos: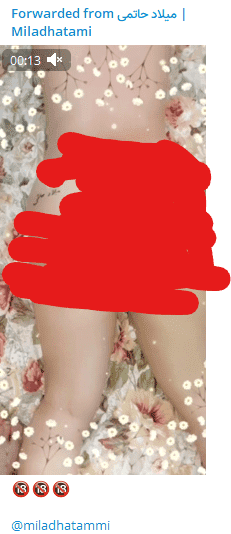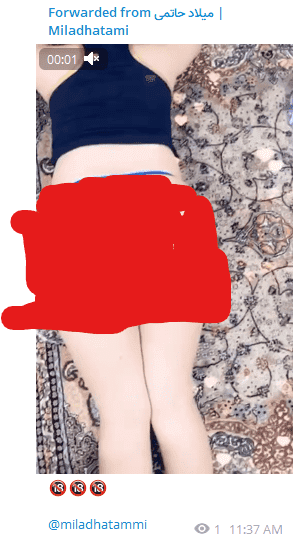 Advertising trick for selling watermelon with Lamborghini in Istanbul:
As you can see in the news, this person's primary business media is YouTuber, and no one knows that the primary job of this person
is illegal gambling and money laundering.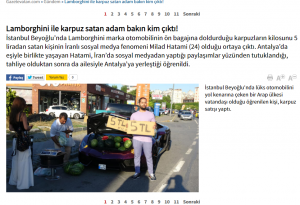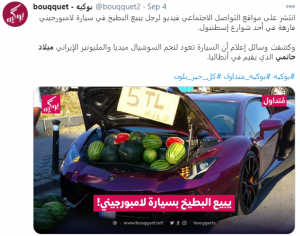 Unfortunately, after this news, Milad Hatami managed to get an Instagram Blue tick with the @Milad username, and now he has more than 2.9 million followers.
https://www.instagram.com/milad
Kidnapping:
In the last attempt on 04/12/2020, to build the realm of money and corruption, Milad Hatami kidnapped Mohsen Afshani, -a known Iranian actor- and forced him to say, "I ate shit "he opposed the gambling business. This crime was clearly published through his Instagram and Telegram channels.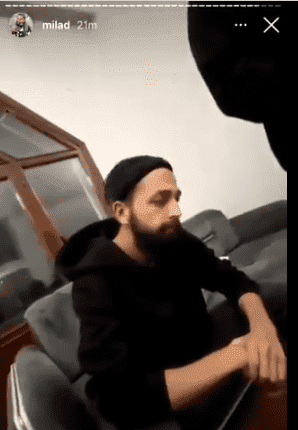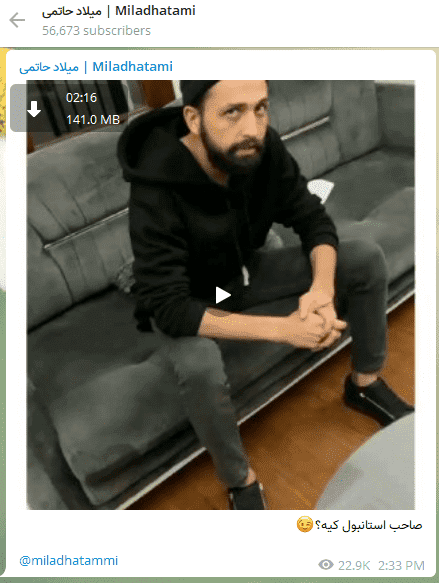 Right now, this video is still available on his Instagram page at this address. Also, in this video, Milad Hatami claims to be the owner of Istanbul.
https://www.instagram.com/p/CIa0_bAgMog/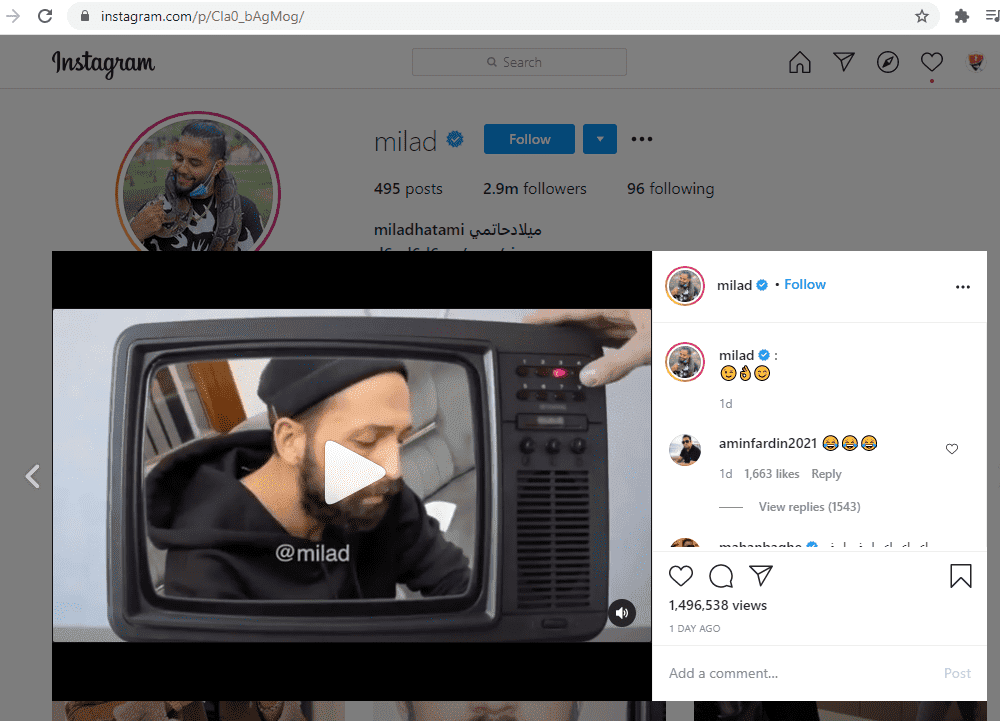 Now the question is how the judiciary of Iran and Turkey has remained silent in the face of this money laundering network that reveals its crimes? How does Facebook allow these criminals to publish illegal content and express their power and identity?
Other people involved in the abduction:
Babak Mazaheri, Roham Parnian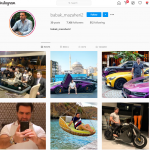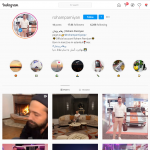 Turkish Translation:
Kara para aklama, yasadışı kumar ve şimdi de adam kaçırma
İslam Cumhuriyeti'ne yönelik yaptırımların baskısıyla yoğunlaşan kara para aklama meselesi yeni bir konu değil, ancak bu ülkedeki mevcut durumla birlikte, İran'ın diğer ülkelerle ilişkilerinin olmaması nedeniyle başta komşu olmak üzere diğer ülkelerde de yasa dışı işler oluştu. Ya da İslam Cumhuriyeti'nin arayışının önemsizliği her geçen gün daha da yaygınlaşıyor. Bu işletmelerden biri kumar ve çevrimiçi bahis siteleridir.
Bu siteler, Türkiye, Ermenistan ve hatta Birleşik Krallık ve Amerika Birleşik Devletleri gibi İran çevresindeki ülkelerden İranlılar tarafından işletilmektedir ve bu sitelerin işletimi üzerinde herhangi bir hükümet denetimi bulunmamaktadır. Yasadışı bir finans ağının kurulması nedeniyle kara para aklama için iyi bir platform haline geldiler.
Bu arada İran'daki kumar işinin hukuka aykırı olması nedeniyle bu gruplar, bu paranın transferini önlemek için hâkimlere, polise ve banka görevlilerine fidye ödemek zorunda kalıyor. Bu sitelerde hile yapmanın yaygın olmasına bakılmaksızın, bu sitelerin yaş sınırlaması yoktur ve gençlerin bu sitelerde kimliklerini bile doğrulamadan kumar oynayabildikleri görülmektedir.
Video görüntü
Bu ağ çok geniştir ve reklam için Telegram ve Instagram platformlarını (İranlılar için iki popüler platform) kullanır.Instagram kazananlardan okuyuculara kadar herkes bu sitelerin reklamına dahil olur. Ancak, Facebook'un (Instagram'ın ana şirketi) belirli kurallarına göre, bu şirketin izni olmadan gerçek parayla kumar reklamı yapmak yasaktır. Kaynak
Milad Hatami kimliğiyle kumar sitesinin propagandacısı olan kişilerden biri, reklam için tüm ahlaksız yöntemleri kullanıyor, örneğin telgraf kanalında, kızlardan (Telegram'da çalışmanın nedeni Instagram üzerinden haber yapma olasılığından kaynaklanıyor) kendisine çıplak bir video göndermesini istedi. Bu videolarda reşit olmayan kızlar açıkça görülüyor:
İstanbul'da Lamborghini ile karpuz satmanın reklam hilesi:
Haberlerde görebileceğiniz gibi, bu kişinin ana iş medyası YouTube'dur ve hiç kimse bu kişinin / grubun asıl işinin yasadışı kumar ve kara para aklama olduğunu bilmiyor.
Maalesef bu haberin ardından Milad Hatami, milad indeks kullanıcısı ile Instagram mavi tik almayı başardı ve şu anda 2,9 milyondan fazla takipçisi var.
https://www.instagram.com/milad
kaçırma :
2020.12.04 tarihinde para ve yolsuzluk alanını inşa etmek için yapılan son girişimde Milad Hatami kaçırıldı ve Mohsen Afshani tanınmış bir İranlı aktörü kaçırarak kumar işine karşı çıkmaya zorladı. Kişi "bok yedim" diyor. Bu suç açıkça bu sayfa ve bu kişinin Instagram ve Telegram kanalı aracılığıyla yayınlandı :
Video görüntüleyici
Şu anda bu video, bu kişinin sayfasında bu adresten hala mevcut ve bu videoda Milad Hatami, İstanbul'un sahibi olduğunu iddia ediyor.
https://www.instagram.com/p/CIa0_bAgMog/
Şimdi soru, İran ve Türkiye yargısının, suçlarını açıkça ortaya koyan bu kara para aklama şebekesi karşısında nasıl sessiz kaldığıdır? Facebook bu suçlulara suç içeriklerini yayınlama ve güçlerini ve kimliklerini ifade etme fırsatını nasıl veriyor ?
Kaçırılmaya karışan diğer kişiler :
Babak Mazaheri, Roham Parnian